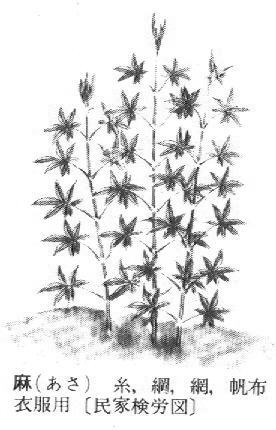 Woodcuts of Hemp (asa)
from Nômin Seikatsushi Jiten (Historic Encyclopedia of Farmer's Lives)
"Hemp: for thread, rope, nets, sails and clothes."
Hemp has been farmed in Japan since the prehistoric Jomon era. Many old prints bear witness of its significance to traditional Japanese culture.

The Nômin Seikatsushi Jiten (Historic Encyclopedia of Farmer's Lives) where these old prints here were found had the following to say about hemp and its applications:
"Asa (hemp) is a fibre plant that has been used since old times and used to be called kingusa [lit.: clothes herb]. Before cotton it was the main source of material for clothes for people. Already in the Middle Ages it was a commercial product. The Hokuriku [Northwestern] area was the major growing area. In modern days it was gradually overtaken by cotton, but since its fibre was very strong it continued to be used for nets, ropes, tatami (straw floor mats), kaya (mosquito nets) and summer clothes. Major growing areas were Yamato (around Nara), Omi [around Osaka] and Echigo [around Niigata]."
The process described in the following prints is far more sophisticated than the dew or water retting processes commonly employed in Europe or the U.S. at the time and should have produced an almost colourless fibre of very high quality. See photographs of how this process is still in use today for hemp grown for shrines in Japan and for the Imperial household: